Mannerist altar
The church and the altar were built on the initiative of Hieronim Rozdrażewski – the bishop of Włocławek and the Royal Chancellor who lived in the 16th century. He was a member of a noble family and undoubtedly wanted to emphasize its greatness with this endowment. The altar's oldest fragments attest to the bishop's ambition and the splendor of the work. These are elaborately decorated side elements and columns which are almost 400 years old. The onetime woodcarvers experimented with wood while seeking new shapes. The effect of surprise, the play of illusions and fanciful originality of ideas were important. Such a trend in art is called Mannerism. It stemmed from the Renaissance and constituted its changed, reshaped (mannered, i.e. contrived) artistic form.
At the end of the 19th century the church was enlarged and rebuilt in a new style. Probably the upper and bottom parts of the altar and the paintings come from this period.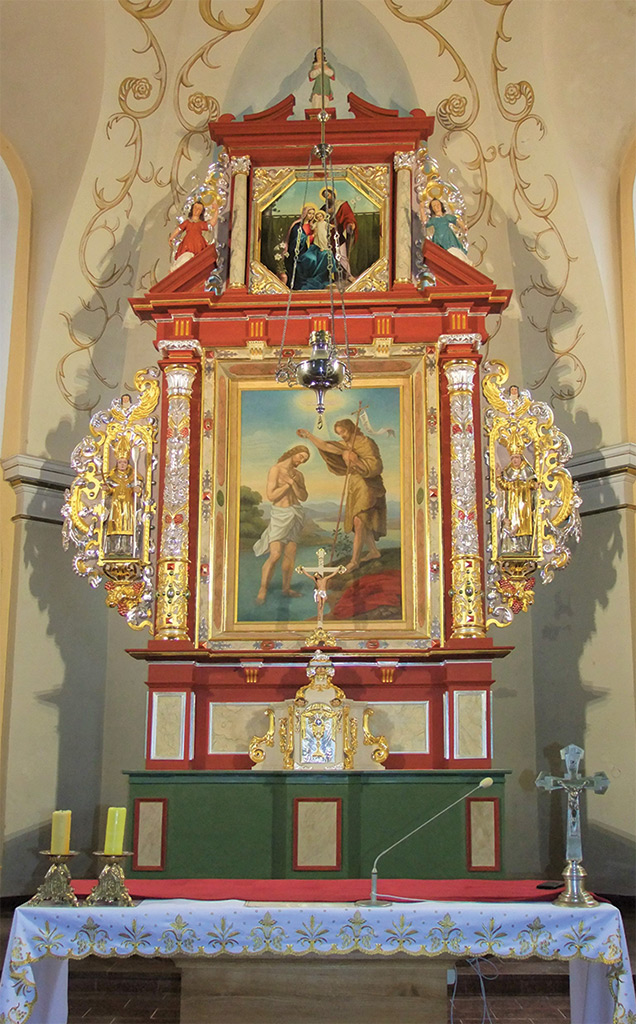 It took a lot of patience and talent to carve a side decoration of the altar in wood. Openwork composition required from the author a lot of fantasy. The effect was swirly auricular ornament, grapes and angel heads on the top.
St. John is baptizing Christ in the Jordan river (Latin inscription on the ribbon: "Look, the Lamb of God").
On the sides of the altar there are patron saints of Poland: St. Adalbert is holding his attributes: a cross (he christened pagans) and an oar (he sailed to the land of the Prussians by boat), St. Stanislaus the Bishop is presented with a small figure of Piotrowin by his feet.
The columns are decorated with candelabra, leaves arranged symmetrically, grapes, and ornamented fittings.
Address
1 Pleszewska Str., 63-708 Rozdrażew
phone 62 722 13 12
Indulgences
niedziela przed lub po 24 czerwca (św. Jana Chrzciciela) oraz 19 marca (św. Józefa)
Zobacz również