RENOVATION OF THE BENCHES, THE CONFESSIONAL AND FOUNDERS'  PEWS IN THE CHURCH OF THE OUR LADY OF THE ASSUMPTION IN ŻEGOCIN
Wooden furniture which include benches, founders' pews and confessionals are elements of the furnishings of the church of Our Lady of the Assumption in Żegocin, and were made in 1776. 12 benches, 2 confessionals and 2 founders' pews were renovated. All historic furniture was made from oak wood in the rococo style. Their condition was bad, they had been repainted with black varnish, and decorative elements which should be gilded, had been covered with gold paints. Their construction was unstable with visible mechanical damage of wood and paint layers. Xylophages' foraging could also be noticed, a few decorative elements were missing as well, e.g. consoles.
The main purpose of renovation was a full technical and aesthetic conservation of the objects.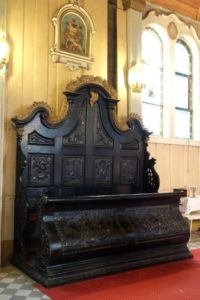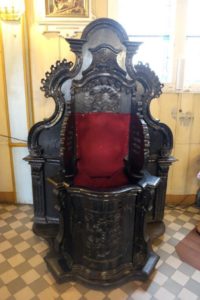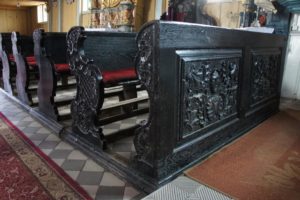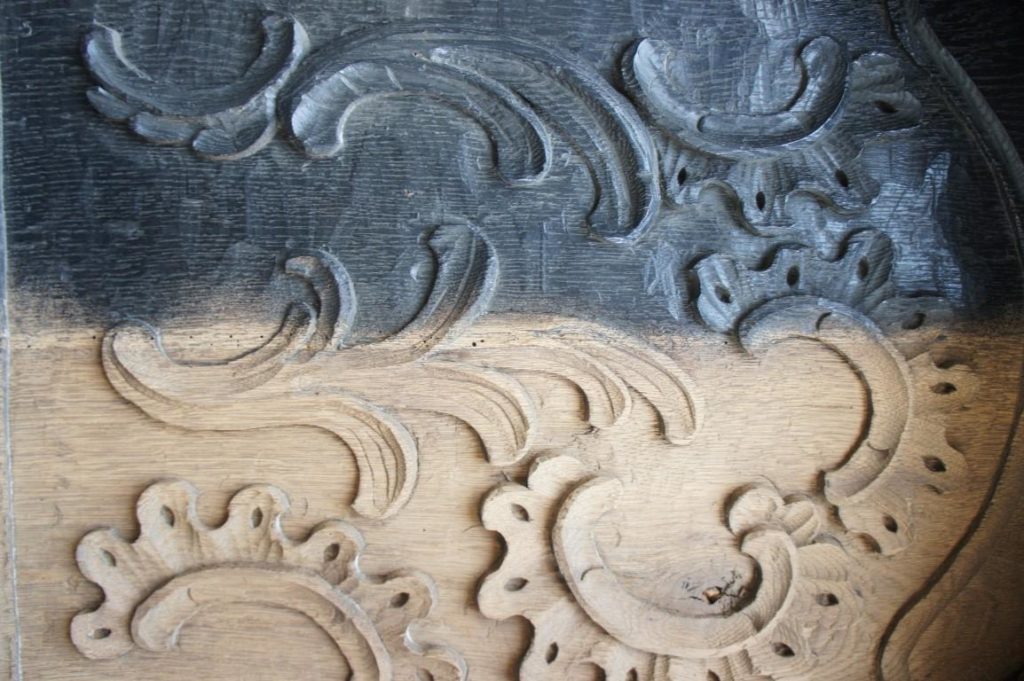 Works started with disassembling of the items from the church, which were next transported to a workshop.  In the workshop, they were cleaned from different contamination, and then the condition of particular elements was preliminarily assessed. Renovation started with ablation of black oil varnish. Before this procedure, a series of tests was conducted to estimate the most efficient method. It was decided to use mixed technique, i.e. micro-sandblasting with dolomite powder and mechanical cleaning of ornaments.
Parts of new wood were impregnated preventively, and the historic construction elements were impregnated for reinforcement and sterilization with resin. The next stage involved establishing of methods and the range of cleaning the objects' surface from technological layers, which could not be removed mechanically. Parts with best preserved varnish layers were selected as well as parts  from where the layers should be removed entirely. Test were conducted and the most effective method of removing dirt and turbid varnish was chosen. Some contamination was removed mechanically through micro-sandblasting. After ablation of layers and degreasing of the wood surface, carpentry works were done. These involved corrections of joints, as well as supplementation of damaged or missing parts of wood. Particular plugs after mounting in the furniture's structure, were unified in terms of colour to match the immediate surrounding.  More demanding unifications were made with oil and resin-based paints. Minor supplements of sculptures or small and stable cracks were filled with sawdust putty. The purpose of this procedure was to diminish absorptivity of putties.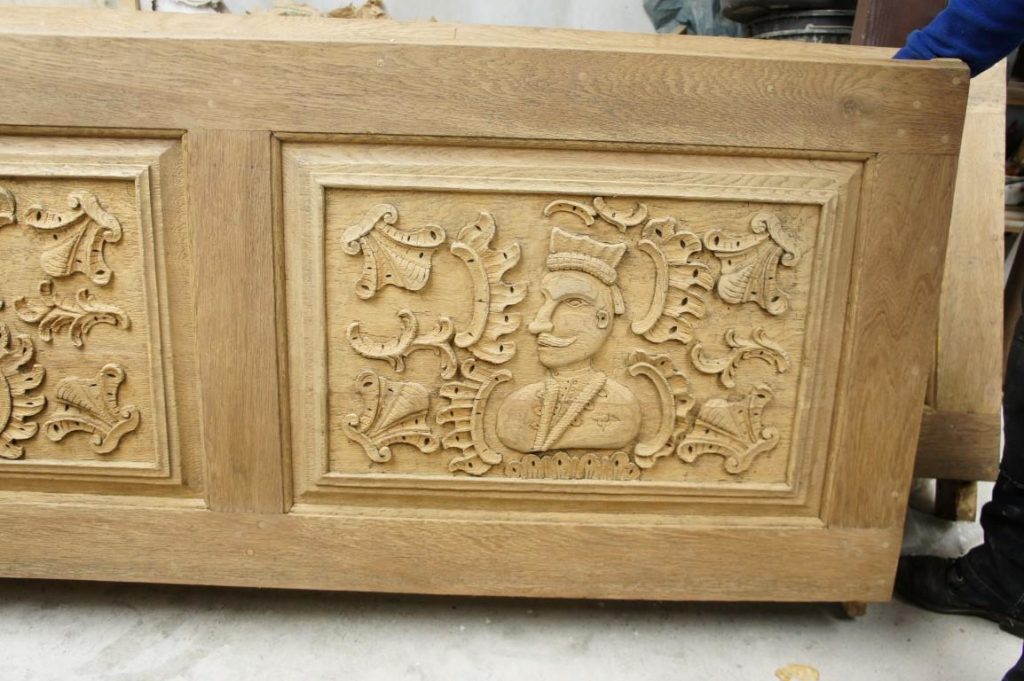 After the processes of technical renovation, aesthetics renovation began. In order to achieve colours as similar as possible to the original layers, it was decided to create a multi-layered glaze based on oil and resin. Due to long period of drying up of the layers, the process was very time-consuming and it required a strict technological regime. When the coloured layers dried up, the glaze was covered three times with varnish with a touch of brown. All furniture were covered with bee wax in medium oak colour. Then the furniture dried up, everything was polished with a cloth so that even gloss was achieved. When the wax dried up, the objects were assembled in the church.
Wooden ornaments were gilded with 23 karat gold leaf in acrylic technique.
After mounting the objects in the church, photographic and as-built documentation were made.